Rooms
Our nineteen large rooms are individually styled, each one decorated with carefully-selected, unique, hand-crafted furniture. The rooms adorn oil painting and the hand-drawn paintings of flowers that they are named after. Every one of our decorative accessories and furnishings reflect colonial traditions and are made from the highest quality materials.
In all of our bathrooms, you'll find a range of natural bath and beauty products supplied by our very own Nakara Spa. We aim to provide all of our guests with the best good night's sleep. Along with the finest sleep materials, we provide a pillow menu to maximize your comfort. All rooms are fully equipped with modern amenities, high-speed Wi-Fi, and wide-screen TVs.
The rooms at Ping Nakara are designed to provide you with tranquil beauty in the elegant style of times past without compromising the modern facilities that today's traveller might require.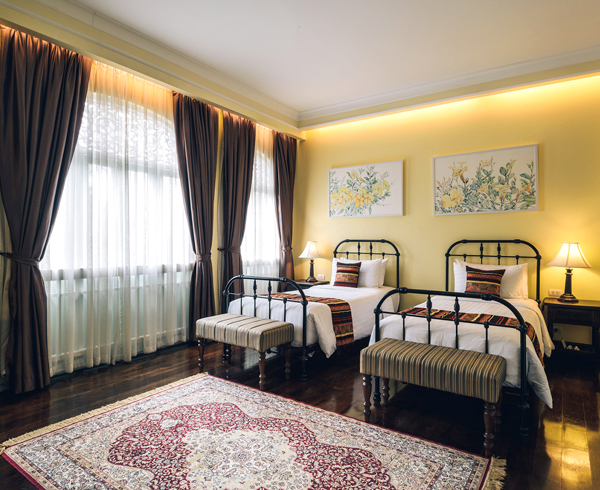 Deluxe Rooms
Our two Deluxe rooms are suitable for small children as there are NO balconies, and they can be joined to adjacent Grande Deluxe king bed room to be connecting rooms. Both Deluxe rooms have separate bathtub, shower and toilet. They vary from 35 to 40+ square meters and are decorated in a traditional colonial decor.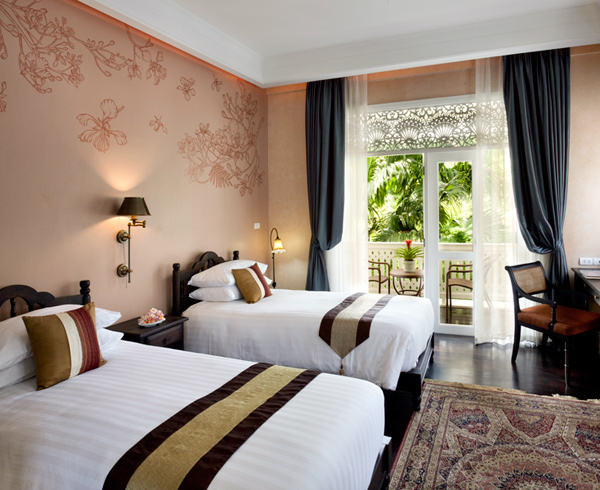 Grande Deluxe Rooms
There are eleven Grande Deluxe rooms, and available in both twin bed and king size bedded rooms. All rooms have separate bathtub, shower and toilet. They vary from 35 to 40+ square meters and are decorated to be very peaceful and have balconies overlooking gardens.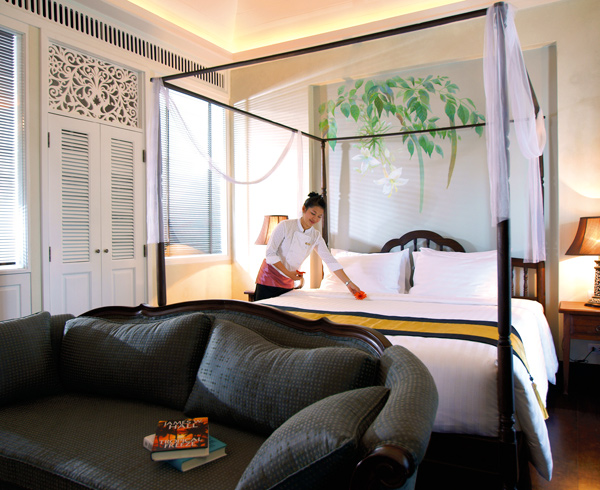 Royal Grande Deluxe Rooms
Six Royal Grande Deluxe rooms provide the ultimate in elegance; all rooms have separate bathtub, shower and toilet. Each Royal Grande Deluxe room has a king bed and at least 45 square meters room size. All of these rooms have Jacuzzi and pool view balconies.
Guest Room Features
Over-sized rooms, with a minimum size of 39.8 square meters.
Hand finished hardwood floors
Creative over-height ceilings
Balconies.
Furniture and room furnishings reflect the colonial period in both style and materials
Luxurious Persian carpets
Writing desks, clothes cabinets, side tables
Sofas in Royal Grande Deluxe rooms
Over-sized Sealy PosturePedic™ mattresses
300 count all-cotton linens, with hypoallergenic duvet and pillows as standard, as well as a selection of pillows for your personal comfort
All bathrooms have separate bath and shower, 6 Royal Grande Deluxe have Jacuzzis
Rain showers in all rooms
Nakara Spa organic bath products
Extra heavy all-cotton towels and bath robes
In room safe, CD/DVD player, direct dial telephone, wide screen TV with satellite/cable stations, antique reproduction alarm clock
Extensive mini-bar
In Hotel
Outdoor swimming pool with poolside chaises longues and umbrellas
Food and Beverage service throughout the hotel
The Library: showcasing travel, Asian themed books and selection of newspaper and magazine, located on the ground floor
Lobby bar for coffee and tea service, full bar and wine cellar
While the guest rooms and public parts of the hotel are non-smoking, there are discreet smoking areas within the grounds
Pillow Menu
For your personalized comfort, we offer several varieties of pillow materials and firmness.
Hypoallergenic Micro Fiber (Polyester)
Medium and firm hypoallergenic fiber pillows have been provided in every guest rooms for overall comfort.
Anti-Snore Pillow (Memory Foam)
Originally designed for NASA, soft texture and superb resilience combine for a very relaxing sleep.
Sobakawa Microbead Pillow
Similar to the buckwheat pillow, the microbead pillow is filled with tiny polystyrene beads making it hypoallergenic and resistant to bacteria or fungus. The microbeads allow the pillow to mold to your specific contours which helps support your head and neck while maintaining a soft feel. This type of pillow is therapeutic as well as comfortable.
Body Pillow
The body pillow helps support you during sleep, no matter what side you sleep on. It promotes alignment for your legs, back, and hips. Body pillow helps in proper circulation, proper spinal alignment and muscular relaxation.
Round Body Pillow
Another pillow great for side sleepers, the round body pillow provides extra support to your head, neck, shoulders, hips, lower back, and knees through the night. Fitting snuggly to the contour of the body, this long pillow creates ideal support for sleeping and relaxation.
Please contact The Service Center by dialing '0' from your room to request your most desirable pillow.